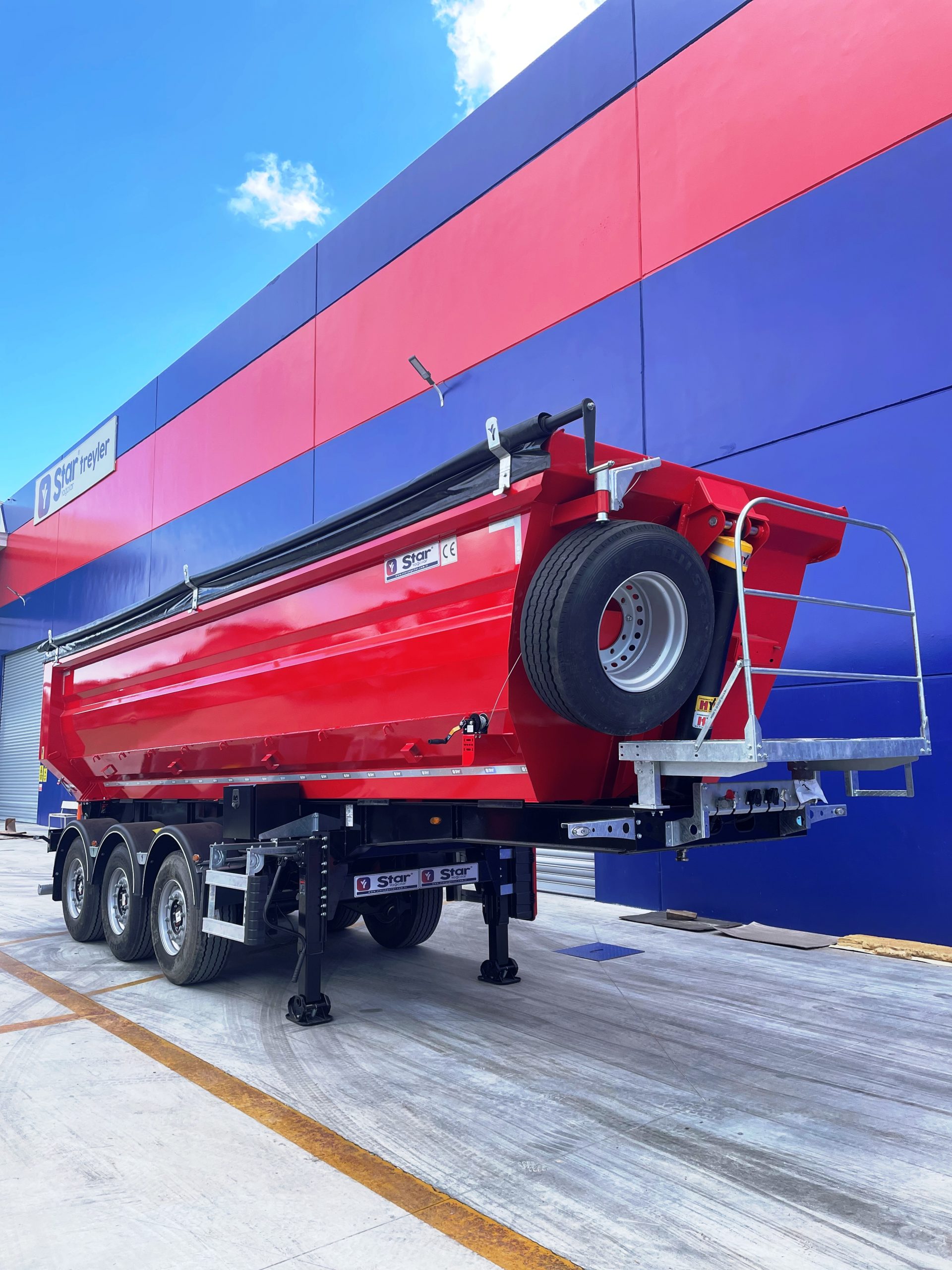 Description
Volume: 24m3
Axle Load Capacity: 27.000 Kg
Net Weight: ~ 6900 Kg
Bin and Chassis
Chassis: S355 (St52) "I" section, high quality steel
Floor Thickness: 6mm – HARDOX 450 or equavalent
Side Wall Thickness: 4mm – HARDOX 450 or equavalent
Front Wall Thickness: 4mm – HARDOX 450 or equavalent
Rear Door Plate: 4mm – HARDOX 450 or equavalent
Rear Door Mechanism: Manuel
Axle and Wheels
Axle Brand: SAF
Number of Axles: 3
Suspension Pneumatic: Suspension
Lifting Axle: Optional
Steerable Axle: Optional
Tire Size: 385/65 R 22.5
Spare Wheel: Optional
Rims: Steel
Brakes: Disc
Brake System: WABCO brand EBSbrake system
Electric System
Electric & Lighting System: 2×7 ve 1×15 pin socket 24V. Stop, Position and Tail lights according to EU standards.
Accessories
Landing Legs: 2- speed heavy duty
Toolbox: Yes
Mudguard: PVC
Water Tank: Yes- 30L
Ladder: Yes
Side Protection: Aluminium
Optional Specifications
Volume: 20m3 – 45m3
Bin Material: S355 (St52)
Number of Axles: 2,3,4
Tires: Double
Mudguard: Steel
Rear Door Mechanism: Hydraulic/Mechanical
Chassis: MC700
Suspension: Mechanical
Axle Brand: BPW or Turkish Brand
Covering System: Optional
Hydraulic System
Hydraulic Cylinder: 5 or 6 stage tilting Heavy Duty Cylinde
Paint
Surface cleaning and sandblating process before painting. Then two layer coating and final paint process getting done in special cabinet.